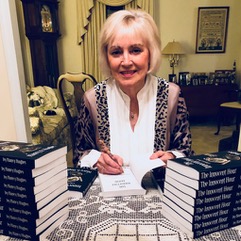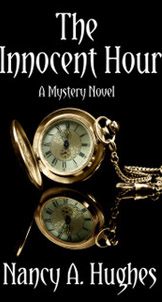 The waiting is over! My shipment of The Innocent Hour finally arrived two days before Christmas. While I missed the holiday gift-giving season, I'm good to go with signed copies to feed my readers' habits. My fifth novel, and the sequel to The Dying Hour, is now available in print and e-versions.
My bookmarks arrived, courtesy of Vista Print's helpful, excellent, service providers and graphic artists. They were so patient!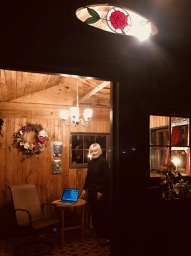 Energized! My little garden shed office is now perfect for the late evening, weather permitting, providing a haunting environment to write mystery, intrigue, and sometimes murder. A timer keeps the office lit throughout our cold Pennsylvania nights, casting spooky shadows across the dark lawn.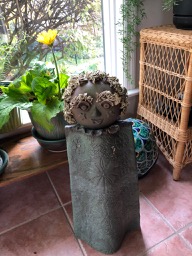 Athena, my Garden Goddess, retreated to our sunroom for the winter. Come spring, she'll spin her magic in my shade gardens.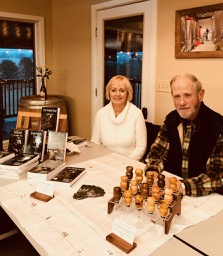 My husband Bill and I attended the inaugural craft show at Stony Run Winery in rural Kempton, PA. He was the vendor, selling his beautiful hand-turned exotic-wood bottle stoppers. I got to tag along to sell a few books. We met a variety of "foodies" and craftspeople who presented their wares on a bleak, snowy day. The Winery, newly opened on the expansive grounds of a former golf club, is a perfect venue for events. Of course, we sampled the wine, for which they have now won awards at the Pennsylvania Farm Show.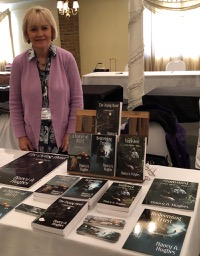 The best part about book events such as the York Book Expo in November, is meeting all those readers and other authors. I'm surrounded by so many people, which you can't see in this shot. It's true—producing a book takes endless, solitary hours. Even authors, who claim to be introverts, sprang to life like genies from bottles to mingle, meet, and swap war stories. The York Book Expo, an all-day affair in central PA, is a must-go for book lovers.