Journalist turned murderer? How did that happen? Nancy A. Hughes followed her dream from PR, community, and media relations to writing mystery novels. Her debut book, The Dying Hour, was launched September 16, 2016. A Matter of Trust will follow in 2017, Redeeming Trust in 2071, and Vanished in 2018. In 2019, The Innocent Hour, which is the sequel to The Daying Hour, was published. Her publisher is Black Opal Books.
Living in rural Pennsylvania with her husband, she is inspired by her beloved garden; her "big green cathedral." Working with perennials and flowers clears her mind, letting inspiration enter about good gals and bad guys and which poison mushroom or weapon to choose.
Nothing encourages her more, however than visiting old friends and making new ones through the Mystery Writers of America's New York chapter meetings in Manhattan. The International Thriller Writers, and Sisters In Crime, and Pennwriters, to which she belongs, energize her with industry contacts and news, stimulating programs and professional direction. She hopes her stories entertain, inspire, and provide escape for readers who love a mystery.
____________________________________________________________________________________________________________________
Nancy was thrilled to be interview by the editor of Prime Women online magazine. The publication has over 300,000 unique visitors a month and over 12,000 subscribers and it is global. The series of articles highlights women who change careers. Here is the full article by Valerie Freeman:
Inspirational Women in Their Prime: Nancy A. Hughes
What's a woman to do when she leaves the big city where she grew up and finds herself in a very small town with few options for a career? That's the story behind mystery writer Nancy A. Hughes.
Nancy grew up in Pittsburgh, graduated from Penn State in journalism and ended up marrying her love who was of all things, an agricultural banker. His business caused the couple to move to a tiny Pennsylvania town where Nancy had to find a way to use her newly acquired education. So she cobbled together a business writing company and called it Nancy A. Hughes, Public Relations.
For the next ten years, Nancy A. Hughes worked from home helping local businesses and nonprofits with writing and press related projects. After ten years, she decided she needed a steady paycheck to pay for her children's education. She was hired by a local bank in media and community relations. Nancy was never fully satisfied working for the bank and realized she was most fulfilled being her own boss. When she wrote the last check for her last child's education, she quit to begin a writing career.
From Small Town PR Firm To Big Time Mystery Writer
Nancy realized she always had a creative and vivid imagination. She made a list of things that happened in her life – she loved to read mysteries and remembers being fascinated by Nancy Drew books and the TV show, Murder She Wrote. Writing her first book was easy in comparison to finding a publisher. However, she persevered, and in 2016, Black Opal Books published her first mystery novel, The Dying Hour. The Dying Hour takes place in a VA hospital, an organization where Nancy volunteered for 15 years. "A warm, human story packed with suspense," said one reviewer on Amazon.
After her initial success with The Dying Hour, Black Opal Books released A Matter of Trust in May of 2017, the first in a three book series. Amazon reviews say, "Hughes is a great story teller." It was followed by Redeeming Trust published in December of 2017 and the third in the trilogy, Vanished – A Trust Mystery will be released in October of 2018.
We posed a few questions to Nancy so we could get to know her better:
How do you introduce yourself now?
When I meet people who ask what I do, I say "I murder people!" On paper, I say I am a mystery writer.
Describe your daily routine.
I work best in marathon sessions where I write all day and into the night.
Do you have a mentor or person who influenced you early in your career?
My mother, who was an English teacher, and my grandmother, who corrected my English.
When have you been most satisfied in your life?
Volunteering at the VA for 15 years and my marathon writing sessions.
What is your favorite thing about your work now?
Having a publisher who believes in me and holding my books in my own hands.
I also love being a member of the Mystery Writers Association (MWA) where I can network with others in my field.
What do you NOT like doing?
Anything to do with technology. Also it is hard for me to promote myself.
What keeps you awake at night?
I worry about missing deadlines.
What's on your nightstand?
Linda Castillo's books about a Chief Detective in a small Amish town in Ohio.
Name a product you can't live without.
Macbook Pro
Do you have a quote, mantra that inspires you?
Never give up.
Tell us something that might surprise people about you.
I am a gardener and just got "Garden of the Week" in my town.
You can find Nancy's books on Amazon.
_______________________________________________________________________________________
Nancy is featured in the Lamp of Delta Zeta's Spring/Summer 2018, "The Reading Room."
The article also includes children's author Jill Bowers Sayre and retired jet pilot Nina Anderson, who has publishes books on natural health, pet care and aviation safety. Click here to read the article on page 38.

_______________________________________________________________________________________
Spring Township author's persistence pays off By Susan Shelly
By Susan Shelly - Reading Eagle correspondent Monday January 2, 2017 12:01 AM
Nancy Hughes of Spring Township began creating stories as a child, weaving tales based on overheard conversations or events that she observed.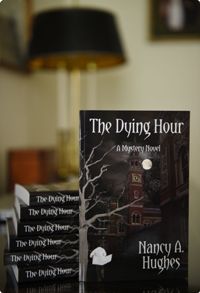 Her love of stories led to a love of writing, which, after many years of effort, has resulted in the publication of her first mystery novel, "The Dying Hour."
Released in October by Oregon-based Black Opal Books, "The Dying Hour" is the tale of a serial killer who routinely kills hospice patients in a veteran's hospital. It is the first of five mystery books for which Black Opal has contracted her.
Hughes started writing her first mystery shortly after Sept. 11, 2001. That book, titled "A Matter of Trust," is one of a series of three books to be published by Black Opal over the next several years. She also is contracted to write a sequel to "The Dying Hour."
"If nothing else, I am persistent," Hughes said. "I started this venture in 2001 and didn't find a publisher who wanted my books until 2015. It took a while, but then one day I got a lovely email saying they wanted to publish my book."
"The Dying Hour" was officially launched in November during a book signing at the Mysterious Bookshop in New York. A
member of The Mystery Writers of America organization, Hughes regularly attends meetings and events in the city.
"Being a member of that group is a great networking opportunity," she said. "I've met so many people there and learned so much."
Hughes got the idea for the storyline of "The Dying Hour" during her work as a volunteer at the VA hospital in Lebanon.
While all the characters in the book are fictitious, she employed her knowledge of the hospital and the type of care provided there to form the basis of the story.
After carefully outlining the plot she created the book's characters, which feature a troubled 5-year-old boy, a Vietnam veteran who is a hospice patient and an unrelenting killer.
After that, she said, the really fun part of her work begins.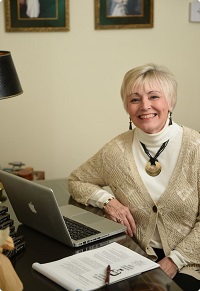 "Then I get the most fun of all, which is researching all the details of the book," Hughes said.
She is meticulous in her research and writing, working hard to assure that the manuscript she sends to the publisher is as perfect as possible.
"I try so hard to make sure the craft is as good as the story," she said.
Hughes, who writes from an office in her home, has been a fan of mystery books since she was a child. Blessed with a lively imagination, she began spinning stories of her own at a young age.
"I have a very vivid imagination," she said. "Creating stories is something I've always done. Anytime I needed a distraction I would make up a story."
Hughes graduated from Penn State University, planning for a career in advertising. She eventually started her own media relations and marketing business, working from home while her children were small.
As both her children and her business grew, she needed to make a decision.
"I got to the point where my business either had to get a lot bigger, or I had to find something else to do," she recalled.
Her writing career began after her youngest child graduated from college, and she hasn't looked back.
"I'm having so much fun," she said. "I'm just thrilled that Black Opal wanted all five books. My mind now is free to create, learn and grow, and I'm looking forward to spending time with other mystery writers and friends."
"A Matter of Trust," which is the story of a young, recently widowed banker who uncovers a loan scam at her new job and eventually discovers the killer of her husband, is set for publication in late spring or early summer.
"Redeeming Trust" and "Vanishing Trust" fill out the rest of the three-book series. She also is working on a sequel to "The Dying Hour," called "The Innocent Hour."
Contact Susan Shelly: This email address is being protected from spambots. You need JavaScript enabled to view it..
Reprinted with permission - Original article at: http://www.readingeagle.com/life/article/spring-township-authors-persistence-pays-off
________________________________________________________________________________________________________________________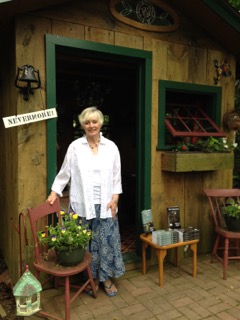 Nancy's summer office, built of
hundred-year-old barn boards.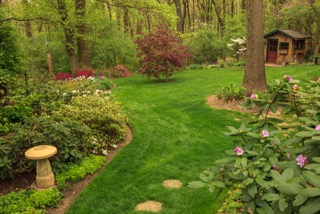 Tranquility and murder plots inspire crime fiction.