A Matter of Trust
A Mystery Novel by Nancy A. Hughes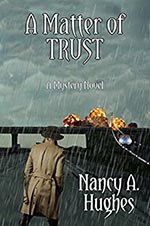 A tragic auto accident? No! The accident was staged, and young Doctor Ward murdered. But why? And by whom? The only witness, a DUI motorist, flees the scene. In the aftermath of Ward's death, and the media fascination, his widow, socialite Kingsley Ward, flees Philadelphia, impulsively accepting a job as VP of commercial lending at a small-town central Pennsylvania bank. But trouble follows her. She uncovers a bogus loan scam that leads her to suspect senior management. Throwing her life into further disarray, the anonymous witness to her husband's murder contacts her with compelling details about the killer's identity. Angry and frustrated, Kingsley vows to solve both crimes herself, risking her job, her reputation—and even her life.
Available for purchase at the following locations:

√
Print
√
Ebook

√
Print
√
Ebook

√
Print
√
Ebook
---
The Dying Hour
A Mystery Novel by Nancy A. Hughes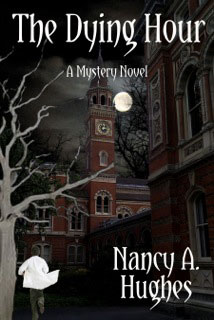 The Dying Hour - A Mystery Novel by Nancy A. Hughes - Charlie Alderfer's grandfather survived the Battle of the Bulge and his father, Omaha Beach. Charlie lasted five days in Viet Nam before being wounded and sent home to a decades-long quiet, productive life. Until medical disaster struck.
Charlie awakens from a coma in a VA hospice ward to face three final battles: a nocturnal intruder is murdering his roommates; a despondent five-year-old visitor harbors a terrible secret; and an inoperable aneurysm lurks in his chest. Ignoring his own precarious health, Charlie coaxes the child to unburden himself while trying to convince staff that a killer is targeting helpless patients. When no one believes him, Charlie intervenes.
Relationships are key with unlikely alliances driving the plot. Charlie is a strong moral man with clear guiding principles and a big empathetic heart. The child, devastated by guilt, struggles to understand the scary adult world. His oblivious young mother, bitter from injustice that targeted her family, trusts no one. The murders underscore the hospital's vulnerability and the ease with which a serial killer could infiltrate that world. That is, until an unassuming hero puts integrity first and himself last. Read on…
Available for purchase at the following locations:

√
Print
√
Ebook

√
Print
√
Ebook

√
Print
√
Ebook